"The Best of Three Worlds" is a Soulful, Cultural, and Historical Journey across Three Continents. It is an inspiring book and a great read.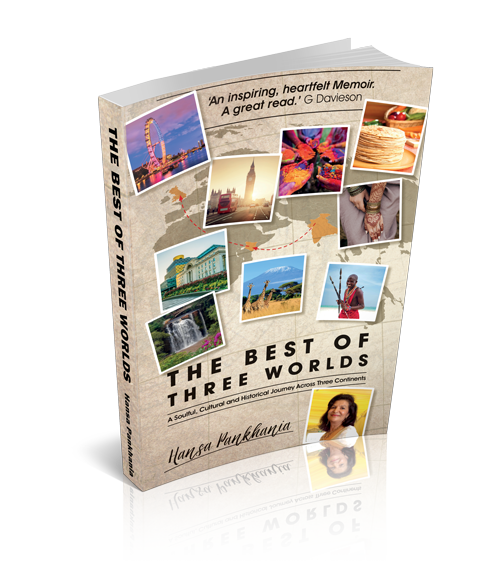 Hansa Pankhania is a Corporate Wellbeing Consultant, Executive Coach, and Speaker. She was born a British citizen to parents of Indian origin in Thika, a small town in the British Colony of Kenya. She has written several books on Stress Management and Wellbeing. She is a Fellow of the International Stress Management Association and Director of AUM Consultancy. She lives in the UK with her husband, children, and grand-children.
About the book
Immerse yourself in the enchanting recollections of a childhood in Africa and an adult life in Britain overlaid throughout with Indian spiritual and cultural influences. This is a raw, honest, first-person account of the author's riveting journey to understand who she is as a commonwealth subject and a proud British citizen, and, through family, food, language, and music, discover the universal truths embedded in our concepts of identity. Highlighting the contributions India and Kenya made to Britain's colonial history and national identity, this is a story of how diversity can enrich our world and bring us together through the simple concept of humanity – all with a pile of rotis.
Says Hansa " I am delighted to take the reader on an adventure that immerses them in the enchanting interrelationships between African culture and exposure to diversity from birth, the richness of Indian influences and living a simple life in tune with nature, and my western education in England and life in a democracy. In particular, I want to share my memories of a moment in time when an Indian-origin child born in the British Colony of Kenya witnesses the liberation of a new African nation. I hope I can convince the reader that 'Britishness' is nothing without its ties to the commonwealth and therefore cultural variation need not be a threat to the concept of Britishness.
All through my life's journey, I have been enveloped with the love, acceptance, connectedness, and humility I received from my parents, siblings and husband that I believe is a basic human need for safety and a sense of purpose and belonging. All [Office1] this amidst the delicious sacred aroma of a pile of rotis! These influences have helped me to grow from a fearful little girl in a small town in Africa to a confident professional woman today – unafraid to be in the public eye and with a mission to help others be the best they can.
This is my journey as a commonwealth subject, the product of three proud cultural identities each with a rich history. This is the story of how diversity can enrich our world and bring us together through the simple concept of humanity.
Published by Filament Publishing Ltd ISBN 978-1-912635-80-1 Published Summer 2019
www.filamentpublishing.com +44(0)20 8688 2698
---
[Office1]I suggest this rewording for greater fluidity and effect.