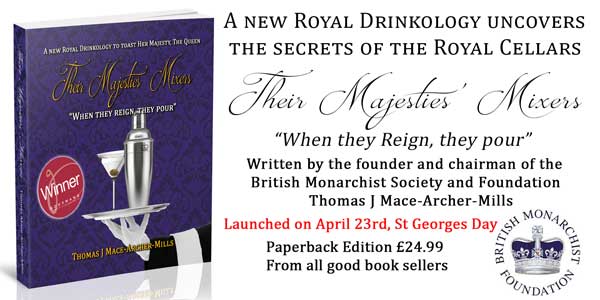 There is no better day than St Georges Day, April 23rd, to launch a new book to celebrate the Royal Family and their traditions.
British Monarchists Society Founder, Thomas Mace-Archer-Mills, has won the GOURMAND Award 2018 with his newly penned book to celebrate modern day Royal celebrations. From the Blue Sapphire Jubilee of Her Majesty, to the Centenary of the House of Windsor "Their Majesties' Mixers – When They Reign, They Pour" is the follow up to the well-received and successful run of his first book, "To The Queen… A Royal Drinkology" which was written in celebration of Her Majesty's Diamond Jubilee in 2012. With three extra special chapters including over 40 brand new recipes created by Tullio Lorenze of M Den and Restaurant, this book has something for everyone. Whether you desire sweet, savoury, or a bit of both – we have you covered!
Famed as much for their love of the drink as they are for their prosperous or tumultuous reigns, Britain's Monarchs have always indulged in their favourite choices of ales, liquors, spirits and wines, and Her Majesty, Queen Elizabeth II is no exception. No matter who may have reigned at any given time in the one-thousand-year Royal history of these great islands, it was the ancient Monarchs of old who were most notable for enjoying meads, beers, ales and wines. As the story of alcohol evolved and flourished throughout the famous dynastic reigns this country has seen, it was the courts of King Henry II, King Henry VIII and King James I (VI of Scotland) which attained notable fame for the multiple, grand wine and ale cellars which would come to be a lavish symbol of the might, wealth and lasting legacies of their Reigns.
With contributions by such political greats as Sir David Amess MP and Andrew Rosindell MP, this celebratory book contains over 250 pages of glorious colour and is a fascinating and amusing celebration of the lesser known facts which blend spirits with the Monarchy. Filled with refreshing drink recipes, Royal canape recipes by Sandhurst's Executive Chef, Robert Kennedy, fun facts, quotes and timelines, this celebration of the Centenary of the House of Windsor 1917-2017 and the Sapphire Jubilee of Her Majesty, Queen Elizabeth II, The longest reigning Monarch in British history 1952 2017, is sure to delight and appeal to those who enjoy a good tipple, great food, decadent Royalty and the one thousand year history of the British Isles.
Further information from Chris Day Filament Publishing Ltd Telephone 07802 211587 email: chris@filamentpublishing.com
The British Monarchists Society and Foundation