News from AuthorCraft

A big thank you to all of our amazing speaks for the March AuthorCraft event at the Institute of Directors. Without question one of the strongest line ups we have had.  From left to right Mindy Gibbins Klein, founder of the Book Midwife;Clare Clark – book designer at Fusion3Media;author Ann McCracken; web designer Emma Flatcher; Speaker Coach Mike Segall; the Happiness Millionaire Jane Jones; Janey Lee-grace BBC Radio2 and the television comedienne and author Angie Le Mar. That you all for making it such  a great event!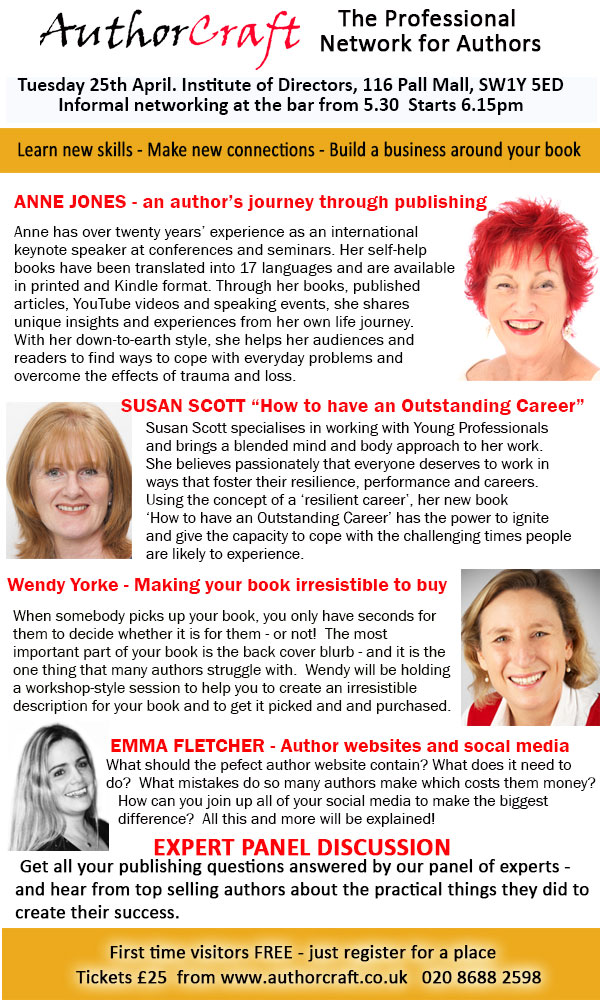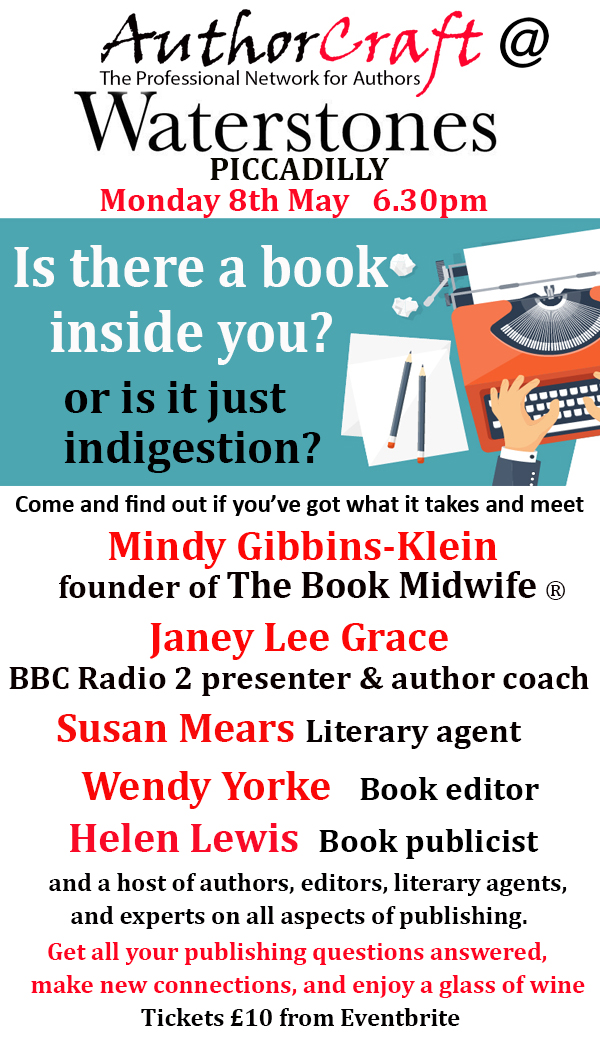 Author Coaching Calls – a free member service
NOTE – please book your free place CLICK HERE
As a service to our AuthorCraft members, we hold a weekly author coaching calls on a Tuesday evening between 7pm and 8pm. The only exception is the 4th Tuesday of the month, which is when our live author networking event takes place in the Institute of Directors at 119 Pall Mall in London.
The an opportunity to get your questions answered on any aspect of writing, designing, printing, distibuting and selling your book.  This call is a free service to AuthorCraft members
The call will be hosted by one or more of our AuthorCraft Experts including founder and publisher Chris Day; Editor and Author Coach Wendy Yorke and book promotion and PR expert, Helen Lewis. We also have regular expert guests and known authors.
IF YOU HAVE QUESTIONS that you would like answers for please email them to advice@authorcraft.co.uk
During the call – you can send texts to 07802 211587 and we will answer your questions during the call.
Instructions:
1. Call at 7pm on Tuesday to 0844 545 2121 (from a landline) or 83000 (from a mobile).
2. Enter the following PIN code: 27532451.
3. You'll be transferred in the Conference Call automatically.
If you're abroad and want to use your mobile phone, call the worldwide dial-in number: +12136039096.
Need help? Call our 24/7 Live Support on 0800 151 0065 (Freephone) / +44 207 100 1380 or visit www.conferencecall.co.uk.
Powered by ConferenceCall.co.uk, UK's simplest conference call service.
It couldn't be simpler!
Introducing our Editors and Book Coaches

We are delighted to introduce you to our growing team of editors and book coaches.  Getting clarity at every stage of your book project or your manuscript from concept to completion, is so much easier when you are working with an experienced editor.  Whether you need help with structure and style, or with bringing your book to market,  the different business models open to you or supply chain and distribution, we have talented editors and book coaches ready to help you.
Being an author can be a lonely and confusing place. Working with an editor, you are not alone and also have the reassurance that your manuscript is oven ready and the best it can possibly be.
Above are Liz Sheppard Jones, Janey Lee Grace, Wendy Yorke, Dee Blick, Louise Lubke-Cuss and Jane Mallin. AuthorCraft founder and publisher, Chris Day coaches on Business models, routes to market and book marketing techniques.
---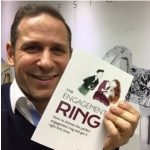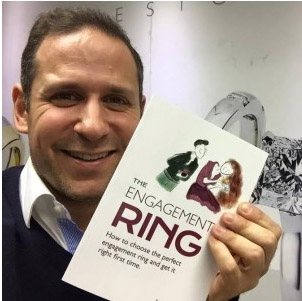 Well done to Lewis Malka, the celebrity diamond jewelary specialist from Hatton Garden, on the launch of his new book 'The Engagement Ring' out on Thursday 4th February. Says Lewis "Now I've written plenty of blogs over the years and you can probably spend day looking through them and collating all information yourself, but why should you? In doing research, and also from my own client experiences, I've come to the conclusion that around a fifth of all women hate their engagement ring. Yes, that's one in five women actually hate their engagement ring. Most don't and won't say anything. With that in mind I've decided to write this book and help you get her what she wants at a price you'll love.
I've had a great mentor in Tim Dingle and I now have a great publishing house, Filament Publishing, guided by Chris Day.
---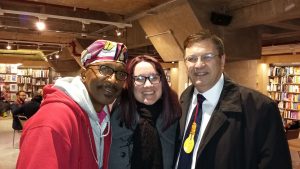 A big thanks to the new Waterstones store in Tottenham Court Road for hosting a successful book launch for Mr Motivator's new book 'The Warm Up'  The store has just opened and has a great cafe!  Big thanks to Helen Lewis of Literally PR for managing all the publicity for Derrick Evans book.  Over 40 media interviews lined up plus ITV Lorraine show.  Mr Motivator is back!
The next AuthorCraft event is on June 28th 2016 at 6pm in the IoD
---
DEE BLICK now at No 11 on Amazon China!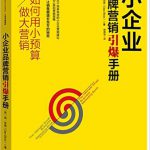 Apart from staying up in the top three of the Sales and Marketing category on Amazon for over four years, Dee's book,┬á'The Ultimate Small Business Marketing Book'┬áhas now become a genuine Chinese bestselling business book ÔÇô currently at position 11 on Amazon China. Dee is proof that dreams do come true for authors willing to sweat the copy and pursue their dream with tenacity and a huge dollop of self belief.┬á You never know where your book could take you. Dee was approached by CITIC Publishing in China and offered a publishing deal a few years ago and is now on the cusp of having her book released in India.
At the February AuthorCraft event on the 23rd, Dee will share 8 powerful and practical tips on how you can become a stand out expert on your subject. A professional public speaker, Dee is renowned for her warm and engaging approach and will be happy to answer any of your questions.
Everyone attending will receive a free printed and emailed copy of DeeÔÇÖs top tips on building expert status so please confirm your place now as this is going to be an unmissable event for any author looking to sell more books and be richly rewarded for their talent.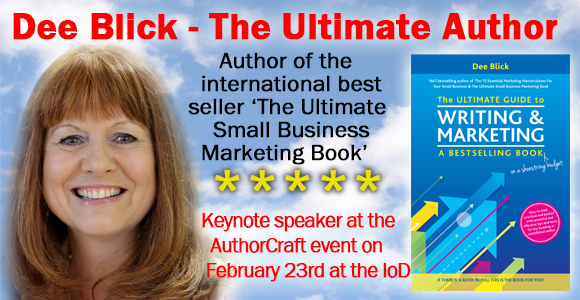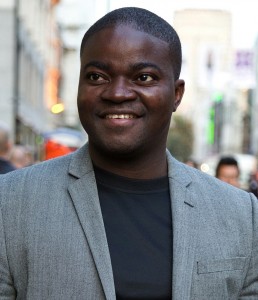 Charly Ngouh is a war veteran who currently resides in London-UK. He served in the in the British Army between 2003 – 2008. He came from Cameroon, a former french and british colony. He arrived in the UK at the age of 21 and is fluent in French, English and German. His first book – How I Won My War -┬á is about his life experiences of growing up in what could best described as a dysfunctional family, coming to and settling in Great Britain and the occurrences surrounding his army career. The book also touches on the subject of integration in British society.
Charly is now 35 years old and hopes to inspire, speak and lecture on overcoming life challenges and be of service to others. His first book is just one of many and the big dream is to introduce Personal Development to Sub-saharan Africa. He is very fond of public speaking and relishes every opportunity to be on stage.