at AuthorCraft on September 26th  in the Institute of Directors, 6:30pm to 9pm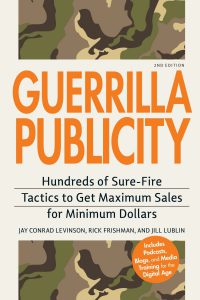 Over the past 25 years, Jill has worked with ABC, NBC, CBS, and other national and international media as a highly regarded publicity expert. She has been featured in The New York Times, Women's Day, Fortune Small Business, Entrepreneur, and Inc. magazines.
Jill is the author of three bestselling books, including: Get Noticed… Get Referrals (McGraw-Hill), Networking Magic (Morgan James), and Guerrilla Publicity (Adams Media), which is regarded as the "PR Bible". With three national bestselling books, Jill is acknowledged as the go-to person for building success through influence marketing, networking, and publicity. She is also the Producer and Host of the TV show Messages of Hope, which inspires people to take positive action to improve their lives and create a better world.
In addition to her speaking engagements, Jill trains and consults with executives, sales teams and marketing departments in Fortune 500 companies, as well as in small-to-medium-sized companies.  Her innovative influence marketing and publicity techniques consistently increase bottom line results for her clients.