#TechTuesday: Using Meerkat to Live Stream My Book Launch
Warren Knight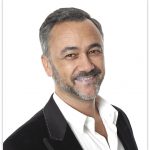 After months of hard work, determination, persistence and a great deal of knowledge, I am ready to release my first physical book Think #Digital First at my book launch TODAY.
I am so excited to share my book with friends, family, clients and the world, thanks to Meerkat. I usually talk about a tool mentioned in my book for #TechTuesday but for this week, I want to talk about using Meerkat to live stream my book launch and how it works as a technology product.
Meerkat is a live streaming video app available to download on iOS and has had 700,000 Active Users in 7 weeks. You can directly link your Meerkat app to Twitter so that you can live stream a video to your followers on Twitter. As I have partnered with the official merchandiser of Meerkat; Funky Fairy, I want the whole world to know that if you canÔÇÖt make it to my event, you can watch LIVE from the comfort of your own home.
To see how Meerkat works, watch the below video.
My book is called Think #Digital First so I felt it fitting to use technology to live stream my event at 5:30pm tonight, at the Institute of Directors.
Think #Digital First is a step-by-step guide designed for creative entrepreneurs, business owners and sales and marketing managers that shares with them the importance of having the right mindset to focus on technology, sales and marketing. Understanding your strengths to building the right team around you and knowing the different platforms, social networks and the right digital tools are so important when integrating them into your sales and marketing to help you market your brand online, saving time and getting sales to grow your business.
The event is now sold-out so YOU can watch it LIVE from 5.30pm tonight by taking the following steps from your smartphone;
Go to your app store on your phone, type in ÔÇ£MeerkatÔÇØ when searching for an app and download the first search result, titled ÔÇ£Meerkat ÔÇô Tweet Live VideoÔÇØ app.
Once you have downloaded it, log in to Twitter through the app (make sure your settings allows this).
Once you are logged in, you will see a video list of all the live videos available. Further down, you will see an option for ÔÇ£upcomingÔÇØ videos that are due to start.
The event will be played via ÔÇ£The Funky FairyÔÇØ account which you can search for using the magnifying glass in the top right hand side of the app or under the ÔÇ£upcomingÔÇØ title.
To interact with the event on Twitter follow @thefunkyfairy and @wvrknight to comment and ask questions.
I canÔÇÖt wait to share Think #Digital First will the world tomorrow. If you are a modern day entrepreneur, make sure you watch LIVE through Meerkat!