SPECIAL OFFER FOR AUTHORCRAFT MEMBERS
AuthorCraft Expert Carole Spiers invites you to
Find Out How to Market Your Business on a Zero Budget!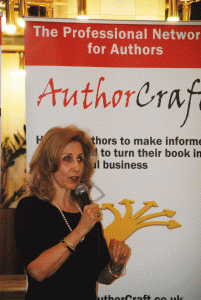 In central London on Saturday 6th February 2016, Carole Spiers, one of the Authorcraft team, will be delivering a Marketing Bootcamp to a room full of entrepreneurs and showing them how to turn their passion into profit, without the necessity of borrowing from the bank.
This popular one day Marketing Bootcamp is aimed at those wishing to start or grow their businesses –
Click here to get your AuthorCraft Member discount
AuthorCraft Member Discount Tickets
Discover How to Double Your Business in 2016
┬áInvest ┬ú127 and 7 hours of your time and youÔÇÖll discover how to grow your business on a zero budget, whether you are an aspiring or seasoned entrepreneur.
YouÔÇÖll learn the secrets to:
Crafting the perfect ÔÇÿelevator speechÔÇÖ
Develop your product range
How internet marketing can make your phone ring!
Branding and PR: getting your voice heard
Website copy, messages and keywording
Use video to promote your business
Website optimisation to ensure the right traffic comes to your site
Writing headlines and copy that sells
Use LinkedIn to create leads which result in new business
Creating your own YouTube channel to bing clients to you
Social media management: Getting a ROI from Twitter & Facebook
How to become an expert on radio and TV
Writing press releases that get read
Getting repeat business from your existing clients
Promoting yourself on video to potential clients
Using webinars to bring in new business
Make money while you sleep!
This is an interactive Marketing Bootcamp presented in a clear and easily understandable format using a proven mix of tips and techniques to achieve low-budget, high-impact results.
Spaces are limited to a first-come, first-served basis and kick start 2016 to book your place here:
AuthorCraft Member Discount Tickets
Carole looks forward to showing you how to turn your passion into profit!