Become An Inspirational Communicator
with Michael Dodd  – Keynote speaker at Authorcraft July 24th
GREAT ANSWERS TO TOUGH MEDIA QUESTIONS FOR AUTHORS
Performing impressively in media interviews about your book can be vital to an author's success.
This Authorcraft master class on 24 July will help you do just that.
It's being run by professional speaker 
Michael
Dodd
 who – as a recovering broadcast journalist – is used to asking people what they call "blowtorch-on-the-belly" questions in his native Australia. But these days 
Michael
 helps people answer such questions.
So he will help authors and aspiring authors like you to be ready for the moment when you're asked to appear on the BBC's "Meet The Author" programme or are interviewed by The Guardian – or by your local newspaper.
"The media love authors when they play their cards right, so they will potentially love you!" 
Michael
Dodd
says.
"And the splendid news is that giving great answers is a learnable skill.
"And it's a learnable skill that can boost interest in you, your book and your book sales!".
"We'll get you started on how to do it at the Authorcraft event by giving you the first golden formula for great answers."
Michael
 has spoken on six continents. He's the author of "Great Answers To Tough Questions At Work" published by Wiley. It's been endorsed by the Chartered Management Institute as "Management Gold".
His interview about the book with The Express helped inspire the newspaper to declare "Every briefcase and bookshelf should have a copy".
Here's 
Michael
 being interviewed about the book by the Gibraltar Broadcasting Corporation on a speaking mission to The Rock.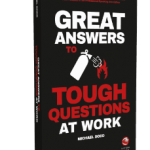 Great Answers To Tough Questions At Work provides the golden formulae to deal with challenging questions amidst the greater personal and organisational exposure which comes from social media, always-ready video cameras inside mobiles in people's pockets, free-flowing access to information on the internet and instant round-the-world communication.
Michael Dodd's book helps you navigate the challenging questions which flow from this.
The book contains advice for anyone who wants to improve their communication skills and answer questions more effectively and persuasively – whether they're dealing with questions from customers, prospects, bosses, shareholders, financiers, potential employers or the media.
Drawing on his experience putting business leaders and politicians under pressure as a foreign and political correspondent, Michael Dodd outlines strategies to combat the hottest 'blowtorch-on-the belly' questions.
ENHANCE YOUR CONFIDENCE, EFFECTIVENESS AND IMAGE
The book helps you to enhance your effectiveness, confidence and the image you project.
Great Answers to Tough Questions is split into two main parts:
Part One: The Tools You Need – This gives you the golden formulae for answering all kinds of tough questions that can arise in the workplace – nasty ones, challenging ones and really stupid ones. It shows you how to harness the power of stories and real-life examples as part of your answers, how to position your body in the right way, strike the correct tone of voice and prepare for questions from different personality   types.
Part Two: Using Your New Tools – This section helps you apply lessons from Part One to challenges that commonly arise in the workplace, including price negotiations, nerve-wracking job interviews, grillings at public inquiries and court cases and questioning by journalists.
Great Answers to Tough Questions at Work contains case study examinations of people in the public spotlight who have done particularly well or particularly badly while answering questions and draws out the lessons for readers.