Donna Thorland, author of the Renegades of the Revolution series from Penguin NAL has┬átaken advantage of┬áTwitterÔÇÖs new native┬ávideo┬áplatform to promote her latest book.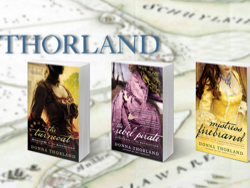 By uploading a trailer for the book from her phone, she was able to tweet the trailer directly to her audience from within the social network. ÔÇ£I actually repurposed an existing trailer for one of my┬ábooks┬áto fit the 30 second time frame,ÔÇØ Thorland explained in an email to GalleyCat.
https://twitter.com/DonnaThorland/status/570439036315152384
So how does the new Twitter platform work?
The video platform will support mov and mp4 files.
Users control what thumbnail of the video appears in tweets. Thumbnails must either be PNG or JPG files.
There is no file-size limit on Twitter videos; Twitter is encouraging users to use the highest quality video possible.
Videos can be up to 10 minutes long.
Videos can be tweeted out, but the tweets can't be scheduled in advance.
No YouTube or outside videos will be allowed on the platform. All videos must be uploaded to the Twitter platform itself. Third-party advertisers are not allowed to run placements on the content either.
Twitter will supply some video stats for publishers: the number of video starts, quartile completion rates (25%, 50%, 75%, 100%), and how those views were acquired (organic versus promoted). Outside analytics tools can't be used to measure the videos.
Videos can be removed even after they've been tweeted.
Read more: http://uk.businessinsider.com/twitter-video-2015-1#ixzz3VCH5njc3