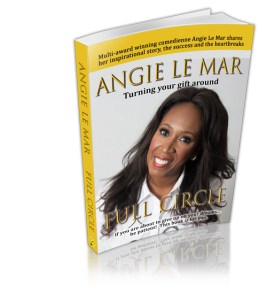 Angie Le Mar was the first Black female stand-up on the British comedy circuit. Thirty years later, she is recognised as a multi-award winning comedienne, TV and radio presenter/star, business woman, entrepreneur, speaker, director, producer and writer. Recently, her writing skills have been put to the ultimate test: over the past three years she has written about her 30+ years in showbusiness. Full Circle is due for release on 16th March 2017.
Her aim is to inspire young people to have the confidence to achieve their dreams, to encourage Black women to smash their goals, and to inspire everyone who has a talent but needs more encouragement to ÔÇÿturn their gift aroundÔÇÖ. Alongside her incredible life journey and lessons learned, Angie shares insights and advice for anyone hoping to succeed in showbusiness. Angie writes of the realities of being a Black performer today and how things have changed (or not in some cases) over the decades, her faith as a Christian, her celebrity friends and experiences running the UKÔÇÖs first Black comedy club.
 Angie Le Mar is an inspirational, strong, hard-working and creative lady who is trailblazing the way for young women, particularly young Black women, to recognise their talents and use them in a way that benefits them and the wider community. Her story will become an invaluable resource for drama education, a perfect gift for anyone aspiring to a life in showbusiness, and for every one of us who needs an encouraging, friendly push in the right direction to make the most of life.