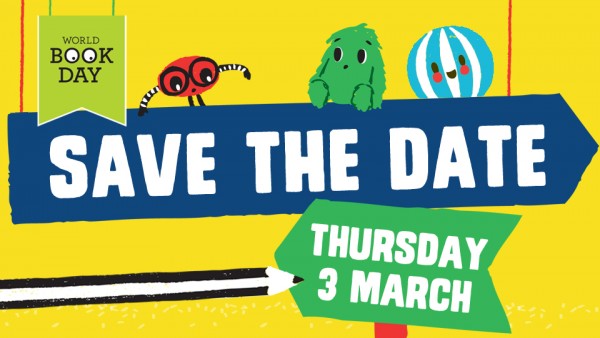 A live Teen Fest will feature in next yearÔÇÖs Biggest Book Show On Earth event for the first time ever, along with a Guinness World Record quiz attempt and lots of events up and down the country
Molly Barker
2016ÔÇÖs Biggest Book Show On Earth line-up will feature over 45 authors and illustrators touring the UK and Ireland making 11 stops ÔÇô the highest number yet ÔÇô and London will see the tourÔÇÖs first ever Teen Fest.
World Book Day will also be attempting to break the Guinness World Record for the worldÔÇÖs largest quiz on the first day of the tour, Monday 22 February. Children and adults from all over the country will be able to take part in The Bumper Book Quiz in Swansea ÔÇô keep an eye on the World Book Day website from January onwards to find out how you can join in.
The tour itself will run from 22 February until Friday 4 March 2016 and includes stops in every region of the country, so everyone can join in.
EdinburghÔÇÖs Grand Usher Hall will play host to the largest event of the tour, taking place on World Book Day itself (thatÔÇÖs Thursday 3 March, remember), and theyÔÇÖre expecting over 2000 excited bookworms to come along. But with authors including childrenÔÇÖs laureate Chris Riddell, YA superstar Holly Smale, and bestsellers Martin Brown and Cressida Cowell attending events all over the country, it gives plenty of children the opportunity to see up to six of their favourite authors up close. 2016 will see the return of official World Book Day illustrator Sophy Henn, and all locations will be compered once again by author Steven Butler, who canÔÇÖt wait: ÔÇ£Last year was a huge barrel of laughs, and I have a feeling that this year is going to be even more fun. How could it not be?ÔÇØ
Win £20,000 World Book Day award for your school library
Here are the tour dates so far, with more names still to be announced:
Monday 22 February at The Grand Theatre in Swansea (Partner: The Welsh Books Council) Jeremy Strong, Knife and Packer, Nick Arnold and Tony De Saulles,, Dan Anthony
Tuesday 23 February in Dublin (venue TBC) (Partner: World Book Day Ireland) Shane Hegarty, Sibeal Pounder, Jonathan Meres, Brian Gallagher
Wednesday, 24 February at the Mercury Theatre in Colchester (Partner: Just Imagine) Robin Stevens, Sue Hendra and Paul Linnet, Phil Earle, Jim Smith, Chris Bradford
Thursday 25 February at Priory Ruskin School in Grantham, Lincolnshire (Partner: Federation of ChildrenÔÇÖs Book Groups) Chris Mould, Will Mabbitt, Jon Mayhew, Sophy Henn
Friday 26 February at RICOH in Coventry (Partner: Youth Libraries Group) Alex T. Smith, Francesca Simon, Abi Elphinstone, Kes Gray, Rob Biddulph
Monday 29 February at St AndrewÔÇÖs Hall in Norwich (Partner: JarroldÔÇÖs) Julian Clary and David Roberts, Holly Smale, Martin Brown, Liz Pichon, Roald Dahl and The Imagination Seekers
Tuesday 1 March at Castle School in Thornbury (Partner: Chepstow Books) Steve Antony, Philip Reeve and Sarah McIntyre, Gill Lewis, Megan Rix
Wednesday 2 March at Guildhall in Preston (Partner: Silverwood Events) Chris Riddell, Jonny Duddle, Sam & Mark, Sue Hendra and Paul Linnet, Cathy Cassidy
TEEN FEST Live Event, evening of Wednesday 2 March at Stratford East Picturehouse in London (Partner: Newham Bookshop) Rainbow Rowell, James Dawson
World Book Day, Thursday 3 March at Usher Hall in Edinburgh (Partner: Edinburgh International Book Festival) Cerrie Burnell and Laura Ellen Anderson, Jonathan Meres, Cressida Cowell, Nick Sharratt, Roald Dahl and The Imagination Seekers
Friday 4 March in Chipping Norton, Oxfordshire (venue TBC) (Partner: Jaffe & Neale) Cavan Scott, Julian Clary and David Roberts, Steve Cole, Katherine Rundell, Maya Gabrielle
For more information about World Book Day and The Biggest Book Show On Earth, visit www.worldbookday.com.